School Gateway
As part of our strategy for improving how we communicate with parents we are now using 'School Gateway', which is a parent portal available via an app or online.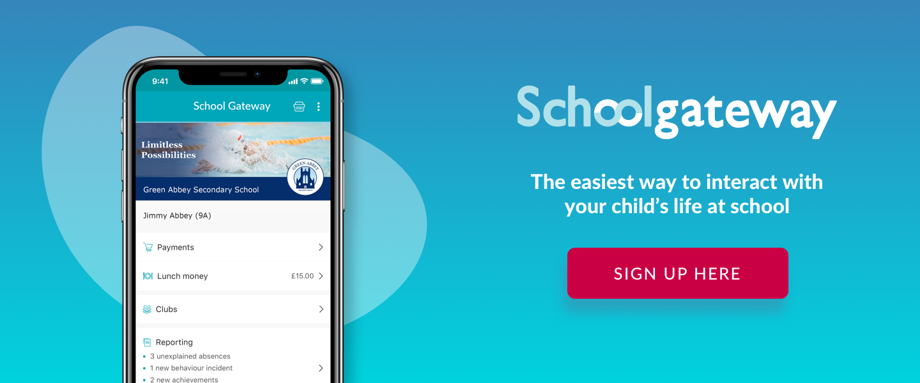 This will enable you to receive all your information from school quickly in the form of emails to your inbox and short text messages directly to your mobile phone.
The free smartphone app will give parents instant access to the following information about their child via phone or the internet. All messages sent to parents through the app are free, so will help the school to save money which can be prioritised to other needs.

What information can I see in School Gateway?
Attendance
Timetable
Reports
Payment for clubs / meals / resources
Newsletters
Information on school events/trips
Instant alerts for school closures (e.g. snow days etc)

How do I get started?
Please download the free app to your phone.
The set-up process is simple and will take no more than a couple of minutes:
Search for "School Gateway" in the Apple App Store/Google Play or on your phone use these links to go to App Store (for Apple devices) or Google Play (Android)
Install the app and when you are asked then say yes to "Allow Push Notifications"
When you launch School Gateway for the first time, please select 'New User' and enter the email address and mobile telephone number you have registered with the school. It is important to use the same mobile phone number and email account already on record with the school. If you change your contact details please let us know as soon as possible.
The system will send a PIN code to your phone; please enter this PIN code and the app will be activated for you.
As soon as you've got the system set-up, all of the text messages we send you will appear in the app; you'll receive notifications/alerts as normal. Please don't use the logout option – doing this will prevent messages from reaching you! To avoid this scenario, just exit the app using your 'home' or similar button.

Technical Requirements
The free, smartphone app for parents is now available for download called 'School Gateway' for Apple (requires iOS 10.0 and watchOS 2.0 or later. Compatible with iPhone, iPad and iPod touch) and Android (5.0 and up) devices.

I can't register or login
It is important to use the same mobile phone number and email account already on record with the school. If you've recently changed your email address or mobile telephone number, please let us know by emailing datateam@spexe.org so we can update our records.
I don't have access to a Smart Phone
If you don't have access to a smart phone, you can still access school gateway on a laptop or tablet:
I'm not receiving email from the school
Occasionally emails from school may end up in your spam or junk mail folders instead of your inbox. This is not only an inconvenience for you if you do not receive important information, but can also cause our email system to disable your address, which can cause issues with online payments as well as contact with the school. Below are some instructions about how to add addresses to the safe sender list for some of the more commonly used email providers.
Please note that when you receive an email from the School messaging system, the email address that you will see (and therefore need to add as a safe sender) is: SC8784607a@schoolcomms.com
We hope you enjoy using School Gateway and thank you for your support.
Outlook.com
Outlook.com
Open your Outlook mailbox
Select Options from the top right (next to the question mark)
Select More options > safe and blocked senders (under Preventing junk email) > Safe senders
In the space provided, enter our address: SC8784607a@schoolcomms.com
Select Add to list
Ensure the safe mailing lists box has the address you entered, and select Ok.
Yahoo! Mail
Yahoo! Mail
In Yahoo Mail, your contacts list is your whitelist. To add the "from address" to your Yahoo contacts:
Open your Yahoo mailbox
Click the address book icon under the Yahoo! Mail log. When you roll your mouse over it, it will say Contacts
Click New contact
Fill in the fields of the contact with our address : SC8784607a@schoolcomms.com
Click Save
G-Mail or Google Mail
G-Mail or Google Mail
Select contacts from the options on the left side of the Gmail Inbox
Select Create contact on the top menu
In the primary email box enter our address: SC8784607a@schoolcomms.com
Select Save
BT Internet
BT Internet
Click the Settings tab
From the Settings tab, select the Safe senders folder
Click the Add button
Enter our email address: SC8784607a@schoolcomms.com
Press Save
A confirmation message will appear and the email address will be added to your safe senders list
TalkTalk
TalkTalk
Click the Settings tab
Click the Mail link in the settings list
From the Filters section, select Blocked Senders List
Click on Edit
Make the necessary changes. You can add and remove named users from the list of blocked senders. You can turn the filter on and off by selecting Active or Inactive
Click Ok when finished