Ten Tors
Ten Tors challenge 2022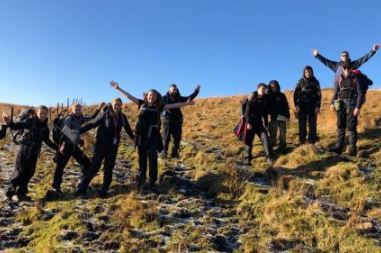 Dear Year 10s,
It's with great pleasure that we set out our plans to you for Ten Tors 2022. Firstly I can confirm that the Army is planning to host an event in 2022 and St Peter's have secured two teams at the 35 Mile distance.
This is a unique opportunity to participate in the UK's largest organised event for teenagers. Furthermore this year marks the 60th Anniversary of the Ten Tors event coinciding with the 70th Anniversary of the formation of The Dartmoor National Park.
As always we have limited numbers of spaces so participation and commitment must be maintained by par- ticipants. Year 10s are welcome to place their bids for a position to train with us.
If you enjoy walking, particularly on Dartmoor, then please mark these dates in your diary and come along to experience Dartmoor National Park, learn the navigational and practical skills and acquire the wild know- ledge and experience of Dartmoor & Devon.
Selection for this years 35 mile teams will be based on your commitment and willingness to work in a team as well as improving your fitness! The distances walked, the amount of kit carried, and the level of fitness required is expected to build over the training period. We will be looking for commitment to the programme from individuals who wish to take part in the Ten Tors event, as a minimum level of training must be com- pleted to qualify for the event.
Teams' selection is the ultimate decision of the Ten Tors Manager. The team manager will access the best candidates based on a range of skills observed over the training period by qualified and experienced staff. Participation will not result in automatic selection of a place in the Ten Tors Event and the Ten Tors minim- um criteria must be met in order to be considered for selection.
The following dates can be subject to change depending on factors out of our control such as availability of qualified staff and the weather. Additional classroom lessons will be posted in due course; these sessions will cover basic map & compass skills, route planning, equipment, Ten Tors Rules & basic first aid.
4th and 5th March 2022 (overnight camp and day walk)
1st, 2nd & 3rd April 2022 (two nights camping with two day walks)
23rd & 24th April 2022 (two day walks and overnight camp)
6th, 7th & 8th May 2022 (Ten Tors event)
Please apply to Mr S Brown for a place ASAP via the Google Classroom code: r5ejqm7