Library
Welcome to St Peter's C of E School Library
The Library at St. Peter's is a large, light-filled, comfortable space in which both students and staff can read for pleasure, study, or carry out research.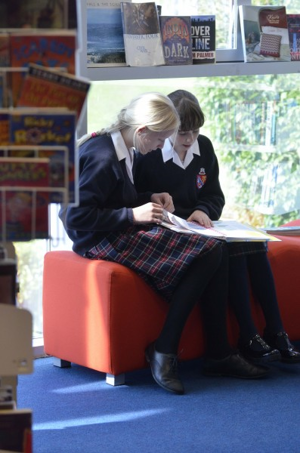 We have recently acquired some bean bags, sofas and armchairs to help make a more relaxed atmosphere, making the library a very popular place for students to spend time.
We do not expect silence in the Library, but we do expect you to keep to the school rules and show respect.
Who works in the Library?
The library is staffed by a full-time Librarian, Ms Vicky Nolan. Each break and lunch time we also employ volunteer Student Librarians.
When is the Library open?
The Library is open from 8am – 5:20pm, to students and staff. During lesson time staff can book the Library for their class/group or individual study. During break and lunch students are free to use the Library for studying, reading, or choosing books.

Can I do homework in the Library?
Yes we run a homework club Monday to Thursday from after school to 5.20pm. A member of staff is here to help you.

What is in the Library?
The library offers a wide range of resources in the form of fiction and non-fiction books, magazines, newspapers and DVDs and Audio Books. There are also a bank of Chromebooks in the library, all with access to printing facilities, which students can use to carry out research or to help them with home learning tasks.

You can find:
Children's and teenage fiction
Adult fiction Y10 and above.
Non-fiction books
Graphic novels and Manga
National newspapers
Magazines on a range of subjects
Reference materials including encyclopedias and dictionaries
A range of resources for dyslexic, struggling or reluctant readers
Students and staff are able to view the AccessIt from school and from home.
This means that you can view your library account, look at the books you have taken out, and see when they are due back. You can also see if your books are overdue.

Careers Library
What about careers and college information?
We have a very well stocked careers section with information about jobs, college courses and work experience. You can also speak to Ms Falconer Head of Careers.

What else can I see and do?
Look at top 10 resources borrowed
See what has been returned
Read about featured authors
View the book of the week
Look at the Library catalogue
Write reviews and give books a star rating.
Empathy and reading
Why is reading good for developing empathy skills in children and young people?

The fantastic research being produced and collated by brilliant Empathy Lab evidences how reading helps to build empathy skills in children. In her superb presentation at the Peters 2019 Love Literacy event, founder of the Empathy Lab, Miranda McKearney described the research of the Emory Centre in Atlanta which demonstrates that the empathy we feel for characters wires our brains to have the same sensitivity towards real people.
Scientific research shows that books are a powerful empathy-building tool. Reading gives young people insight into other people's feelings, ways of life, and the experience of facing challenges like becoming homeless, or a refugee.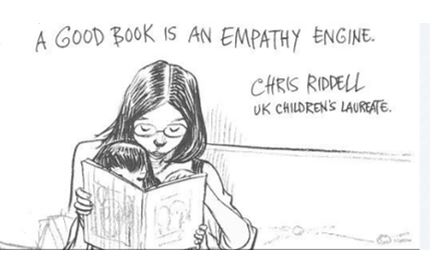 Titles for empathy building can be found at the address below, many of these titles are available from St Peter's Library. Click on the School Library web app to read more about each title.