Malawi Partnership

Changing Lives in Malawi
St. Peter's has been raising money for the community of Mtunthama in central Malawi since 2002 and the staff, students and parents at St. Peter's, have raised over £120,000 in that time, to support a range of projects in this community. Malawi is one of the poorest countries in the world, with high infant mortality rates, life expectancy of less than 50 years and one of the highest rates of HIV infection. Rural communities, such as the 30,000 people who live in and around the village of Mtunthama, often have no access to vital services such as clean water, medical care or good schools. Most families live on less than US$1 a day and grow their own food.
Malawi Expedition

For nine years we have been able to offer students at St Peter's the opportunity to visit southern Africa, on our annual Expedition to Malawi. St Peter's has well established links with Malawi and over 150 students have taken part in previous expeditions. Whilst Malawi may statistically be one of the poorest countries in the world, it is also one of the safest countries in Africa and one of the friendliest places in the world.
The students who take part in this expedition spend the first 10 days of their visit living and working in the village of Mtunthama in the rural Central Region of Malawi. The community of Mtunthama is centred around the Anglican church and Hospital, AMAO Orphanage, the Primary school and our partner school All Saints Community Day Secondary. The students have the opportunity to work on a number of community projects, such as building and decorating school classrooms, helping in the orphanage or kindergarten and doing lab work in the hospital. The students can be involved in some of the many projects which have been funded by our fundraising. Most recently students have helped to repaint classrooms and to build new classrooms at local primary schools, painted murals and run sports events for local children.
As well as the hard work which students have to do in Mtunthama, they also have the chance to unwind by the shores of Lake Malawi, when we move on to Nkhotakota for a few days before heading into Zambia for some of the best game viewing available anywhere in Africa, in South Luangwa National Park.
This is a fabulous opportunity and many of the students who have taken part in previous expeditions have talked about it as "a life changing experience"; something which has encouraged them to rethink their priorities and put their own lives into perspective.
Projects and Community Work
All Saints Secondary School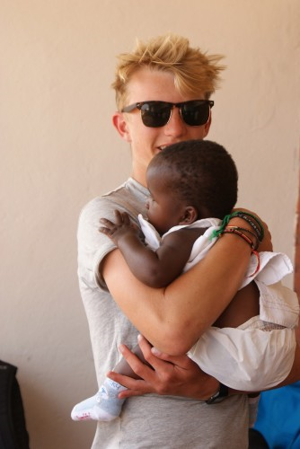 With the support of a number of local organisations, students and staff at St Peter's typically raise between £5000 and £10,000 each year to support a range of projects. This has included building and furnishing two science laboratories at our partner school, All Saints Anglican Community Day Secondary School, where until now students have not been able to do practical science lessons. Building on this work, in 2013 Dr Andrea Parry, who teaches science at St Peter's traveled to Malawi to run staff training for science teachers from All Saints and a neighboring secondary school.
We have also been able to fund a wide variety of smaller community projects linked to the secondary school including repainting classrooms, supporting extra curricular trips and clubs such as the Pottery Club, donating laptop computers, musical equipment and books and contributing to the staff loan fund.
Mtunthama Primary School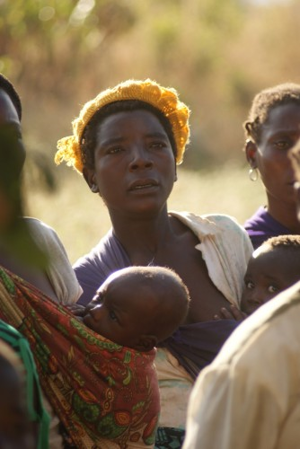 In addition, we have been able to undertake some major projects in two local primary schools. Mtunthama Primary school has more than 1800 children but only 12 classrooms, with many children learning under trees.
In 2009 we built an additional classroom at the school and repainted the whole building. In 2013, our students returned to Mtunthama Primary to repaint the classrooms again – which had suffered badly because the typical class size is over 150 per room!
Chalizya Primary School
Chalizya Primary School, in Chimbya village is 30 miles from Mtunthama and more than a day's walk from a main road, or hospital. The primary school is at the centre of the community, but had been virtually derelict without a roof for nine years until 2011, when a team of 10 buildres from Exeter came to re-roof it. With the support of businesses in Devon and Malawi, they built a 38 metre long and 8 metre wide, free standing roof over the existing buildings, in just 3 days. The builders hope to return to Chimbya in 2015 to finish roofing three more classrooms and also to build five classrooms at Mtunthama Primary.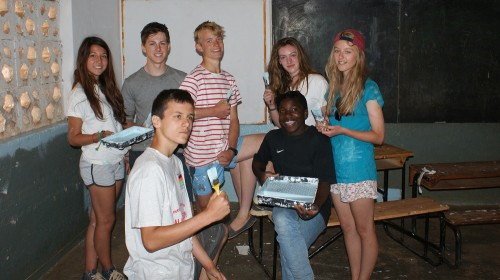 St Peter's Malawi Education Trust
A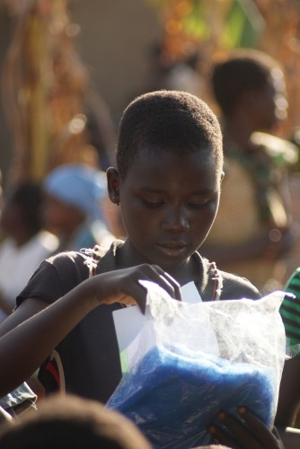 s part our current focus on supporting and developing education in the area around Mtunthama, we have established the St Peter's Malawi Education Trust. We will work with the Malawi Education Trust to improve educational opportunities, in the same way that we have been working with the charity MedicMalawi over the past ten years. MedicMalawi, which was established in 2002, has built St Andrew's Hospital in Mtunthama which has grown from a small rural clinic into a full blown community Hospital with everything from a maternity unit to an operating theatre, dental clinic, laboratory and GP surgery.We continue to support MedicMalawi through our fundraising both in and outside school and in 2013 we contributed £2000 to the hospital's running costs, together with a laboratory microscope kindly donated by South West Water.