School Charities
This year's School Charity: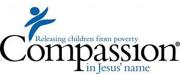 St.Peter's have teamed up with Compassion UK and are sponsoring 10 young people. Compassion child sponsorship is a powerful and lasting way to tackle world poverty. Compassion supports the most vulnerable children and through sponsorship, helps them break the cycle of poverty, replacing it with hope for the future.
Our sponsorship will ensure that the children will have access to healthcare, education, food, clothing and much more. More details can be found about the charity:
Visit at compassionuk.org/stpeters
As a school we need to raise £3000 each year to keep up the sponsorship for Daniel, Catherine, Robert, Janet, Bernard, June, Nuru, Kolo, Abel and Zubeda. What could you do to help us reach our target?
Over the coming months and years we will be getting to know the children better as we write letters to them and receive letters in return. We're really excited about being involved in a project that serves others makes a real difference in the lives of young people around the world.
In addition to this we will also continue to support national projects such as Red Nose Day.