Drama
At St Peter's we believe that Drama lessons help students to see things from different points of view. It builds empathy and confidence. Drama asks questions about society, family, friendships, politics and history for example. Our Drama studios are safe places where nothing is 'wrong' - everything is an interpretation. We encourage peers to support each other and they know that absolute teamwork is required.
In an age where presentation is key we want our drama lessons to enable students to 'present' themselves in a positive light. They learn the power of body language, public speaking and creativity. They develop the ability to think on their feet reacting to unexpected events efficiently and remaining unruffled. Team work, cooperation and support - all skills highly desirable in a modern workplace.
Our aim is to introduce them to a huge range of different theatre and drama practitioners, plays and techniques. We want to encourage them to push themselves to be creative, engaging and believable performers and to use all they learn to make their work imaginative and thought provoking.
Curriculum Aims
Our Yr 7 and 8 curriculum connects with GCSE demands of Devising, Performing and Evaluation.
Year 7
We aim to give year 7 students, who haven't done Drama as a lesson before, the opportunity to develop their confidence, group listening skills and devising and performing abilities through a variety of engaging schemes of work.
-Introduction to Drama
Improvisation and an introduction to Frantic Assembly
Physical Theatre-Slapstick
Play script-Private Peaceful. Monologue
Shakespeare-The Tempest
Devising a group play using GCSE stimuli

Year 8
In year 8 we want to provide the students with the opportunity to be more independent and to develop their leadership skills.
Improvisation and technical skills
Documentary theatre-London Riots and Let Him Have It Chris
Play Script-The Last Resort-comedy, characterisation, line learning and performance to an invited audience
Play Script-Noughts and Crosses-issue based work
Teacher led devising-Changes-Character, physicality, environment, mentality, growing up and technology.
Devising own play using the GCSE exam stimuli

Year 9
Introduction to GCSE
Improvisation and character development
Stanislavski-script work
Introduction to Frantic Assembly
Brecht (Connected to a performance of The Border by Theatre Centre)
Verbatim Theatre.
Devising practical prelim-Verbatim, Brecht, chair duets, theme of The Border.
Introduction to set text-whole class performance to an invited audience
Written exam theatre review introduction.
Discussion re portfolio for devising exam in year 10

Year 10
Autumn
Devising exam. Group play and individual evaluative folder. 30%
Written essays and exam work for the written prelim. 40%

Spring
Exam performance and portfolios completed

Summer
Script reading for performance exam in year 11. 30%
Continued written exam work
Year 11
Autumn
Exam preparation for final prelim
Group practical rehearsals for script exam
Spring
Individual exam script pro forma written
Exam preparation for written exam
Practical exam
Summer
Practical exam
Exam preparation for exam in May
Grouping
We have two groups. They are mixed ability and usually consist of equal boys and girls.
Some students are involved in drama and music outside and inside school. Some only have their year 7 and 8 lessons as their performance and theatre experience.
Staffing
Ms Vallis: Subject Learning Leader
Mrs Comerford
Mrs Simpson
Assessment
Year 7 and 8
We assess students termly, or half termly, on their devising, performing and evaluation (written and verbal) skills. We use the GCSE criteria to give the students feedback on their progress; working towards, working at and working above.
The teacher and students use a bank of statements to choose a target as their focus for the next half term. These can range from voice development, taking on bigger roles, giving more ideas and managing their distractions.
We use the school Character Compass for students to evaluate their progress in areas such as listening to others, developing confidence and leading the group.
Years 9/10/ 11
The GCSE criteria is used for all assessments, written and practical.
Devising 30%
Performing 20% written 10%
Written 40%
Students are encouraged to assess themselves and their peers and to always be evaluating and discussing what went well and what still needs development.
Homework
Year 7 and 8
Knowledge organisers and drama skills and strategies
Line learning
Play reading
Introduction to drama practitioners
Year 9
Focus on all elements of the GCSE course.
Research into practitioners
Script writing
Portfolio writing
Set text essays
Theatre reviews

Year 10
Devising portfolio completed at home and in school throughout the year. 30%
Exam questions re set text and theatre review in preparation for written prelim, 40%
Preparation for performance exam. Script reading, character development and line learning. 30%

Year 11
Line learning and development for performance
Pro forma written and sent to examiner
Ongoing preparation for written exam
Finishing portfolio
Enrichment & Extra Curricular
St Peter's prides itself on providing all students with the opportunity to see a play every year and to be involved in school productions. Sometimes we go out to see plays and musicals but we also have companies in, especially for GCSE students.

Shows we have seen recently

Matilda at Plymouth Theatre Royal
Year 10 and 11 went to see this amazing musical. They need a theatre review for their Drama GCSE. It was great to see the amazing lights, set and costumes.

Humbug by Four of Swords at St Nichols's Priory
Year 9 went to see a promenade performance of Humbug by theatre company Four of Swords. This was in the amazing St Nicholas's Priory on Fore Street. The audience were taken around Scrouge's house by one of the spirit's. They even had a party in his kitchen.
Theatre Groups working with St Peter's

The Border theatre Centre
In October Theatre Centre Theatre Company came to St Peter's to perform their production of The Border by Afsaneh Gray.
It was a "high energy, outrageous Brechtian parable that explores the lines we draw between ourselves and other people and the absurdities of borders. The Border features original songs and a live break-out debate where one girl and her dog, and the audience, find their voice
They will be back with their new show Birds and Bees on 2020/2021

Recent Student Productions
A group of students, mostly year 9, put on their own production of this play at the Cygnet Theatre. It has a very important message and the audience were very moved by the plight of the characters. It was great to show all their hard work in a professional theatre.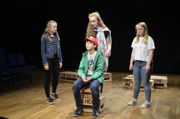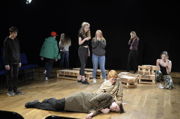 Fugee by Abi Morgan
Fugee: Slang for refugee of political oppression or natural disaster.
Fugeed: Something that has been lived in, soiled, stained or damaged.
Kojo is 14 but no one believes him; he's just one of the unaccompanied minors arriving in London, abandoned on the streets of the UK. Ara's from Baghdad and still hears the bombs at night. Cheung can do back flips and is from village in China that is more than a thousand years old. Orphans in London, they are the only family they have now.
Together they tell Kojo's story: a story of lost childhood, tall trees and a murder in motion; a murder by a child that everyone says is a man.

Whole School Productions
We Will Rock You!
This 2023 production was huge success. The cast and crew of 80 plus students worked so hard to create an entertaining and thought-provoking show. They gave up their evenings and weekends to make sure this show was the best it could be. They worked as a team, a tribe we call it. It didn't matter if you were a chorus member, or a main character all were important, and all supported each other.
Grease
Our 2022 production was Grease.
Bugsy Malone
Our big production in 2020 was Bugsy Malone. Over 80 students were involved either on stage or backstage to make this an amazing production. Take a look at the photos in our gallery pages.

The Adams Family
In 2019 we staged a production of the Addams family. This dark, black comedy allowed our students to get into full costume and didn't disappoint in terms of showcasing the amazing hidden talents of some of our students.

The Monstrum

Fiddler on the Roof
Page Gallery