Religious Studies Conference
Back
News - 30th Mar 2021
RELIGIOUS STUDIES CONFERENCE

What is it like to study Religion at university? You can get a taste at our Religious Studies Conference, where you will have the opportunity to participate in discussions with specialists in Theology and Religion from the University of Exeter.

You will also be able to ask questions of our current students about studying theology and religion at university. Winners of our essay competition will be announced at the end of the day.
Join us on Zoom on Saturday 8th May 13:00-16:15
Sign up at: https://gck.fm/xawep or scan the QR code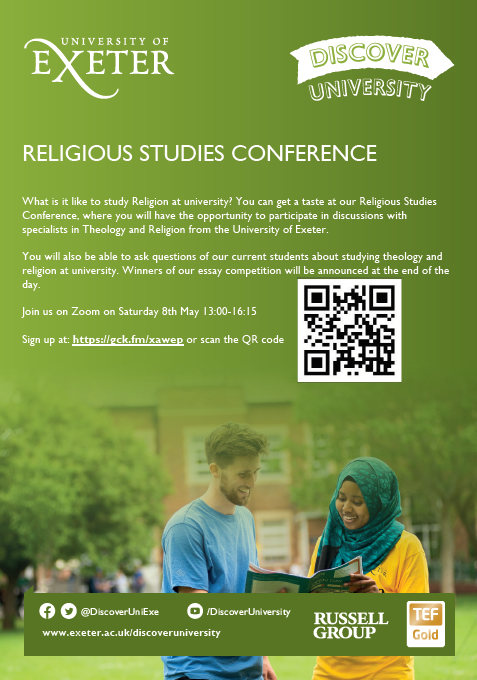 The University of Exeter's FREE online Religious Studies schools conference is on Saturday 8th May, and bookings are now open for teachers and students! There will be DBS-checked University of Exeter staff in all sessions. Attendees will be able to take part in monitored live text chat but will not be seen on camera. The target age is KS4 and KS5, but engaged younger students are welcome. Students do not have to be studying RE or Philosophy to attend. For more information visit https://gck.fm/xawep or contact Dr Rebekah Welton (r.c.welton@exeter.ac.uk).
Topics include:
'Christianity and Social Transition: Changing Responses to Gender and Sexuality' – Prof Susannah Cornwall
'The Bible, Religion, and the Environmental Crisis' – Prof David Horrell
'Was Darwin an Atheist? Natural Selection: The Problem of Design Without a Designer' – Dr Andrew Jones
'Challenging Worldviews: Disability Activism and the Bible' – Prof Louise Lawrence
'How does History help us Understand Religion? How does Religion help us Understand History?' – Prof Morwenna Ludlow
'Introduction to Indian Philosophy' – Dr Ionut Moise
'COVID: What on Earth was God Doing?' – Prof Christopher Southgate
Current Student Perspectives: Studying Theology and Religion at University – Dr Rebekah Welton and current students