Year 6 Open Day, Evening and Coffee Mornings
Back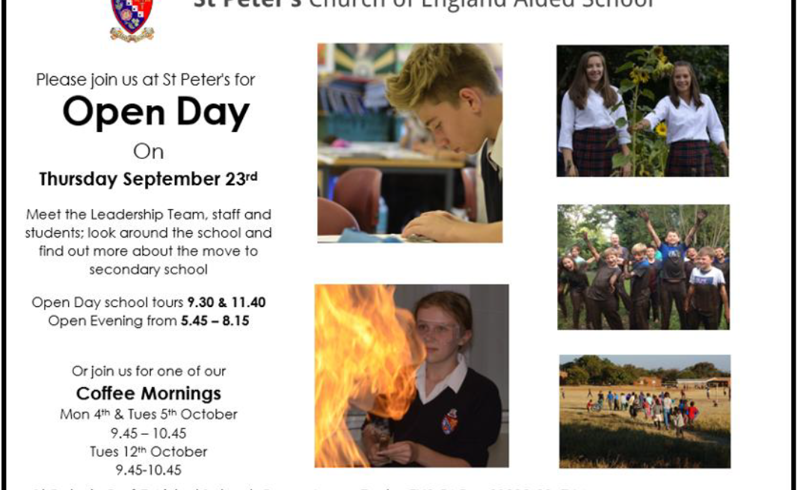 News - 16th Sep 2021
St. Peter's CofE VA School, Exeter
Year 6 Open Day, Evening and Coffee Mornings
Thursday 23rd September 2021

We are delighted to welcome you to these face-to-face on-site events.
We trust that the open day and evening event will provide you the opportunity to make wise, well informed decisions about the best school for your child(ren).
There will be opportunities to meet staff and students and get a sense of what it is to be a member of our distinctive St. Peter's community. As well as seeing learning in action, there will the chance to chat with staff and students about St. Peter's.
I am sure that you will understand that due to Covid-19 we have agreed in consultation
with Public Health and DCC some measures to reduce the chances of this awful disease spreading amongst our school, wider community and your friends and family.
Please therefore follow the requests below to keep our community as safe as possible:
1. On the day of attending please take a lateral flow test and only attend if this is
negative. If it is positive follow Government guidelines.
2. Attendance – Please bring only one adult and your Year 6 child if at all possible.
3. On entry and exit to the school site please sanitise your hands.
4. Please wear an appropriate face covering in indoor spaces e.g. corridors,
classrooms, hall.
In addition to these safety measures this year for the Open Evening, to reduce the usually packed hall for the talk by the Headteacher, School Chaplain and students we will provide three separate times for this part of the event:

Talk One – 6.00 – 6.15pm
Talk Two – 7.00 – 7.15pm
Talk Three – 8.00 – 8.15pm

You will notice that staff delivering activities may not be wearing masks.
We take the safety of our students, staff and community very seriously and ask that you support us in doing so too at this event. A bit of possible discomfort wearing a mask in indoor communal areas is a small act of kindness that will support the health of our community and reduce the pressure on the NHS.

Times and Dates
Thursday 23rd September
Open Day Tours 9.30am and 11.40am
Open Evening 5.45pm – 8.15pm
If you are unable to make the 23rd September, please joins us for one of our Coffee
Mornings:

Monday 4th October 9.45am – 10.45am
Tuesday 5th October 9.45am – 10.45am
Tuesday 12th October 9.45am – 10.45am

Staff and students look forward to seeing you and helping you understand a little bit more of what it is to be part of the St. Peter's family as we seek to live our vision and mission statements every day.
Life to the full for everyone
Developing character and bringing HOPE through:
Wisdom • Courage • Compassion • Community

Yours faithfully

Phil Randall
Headteacher