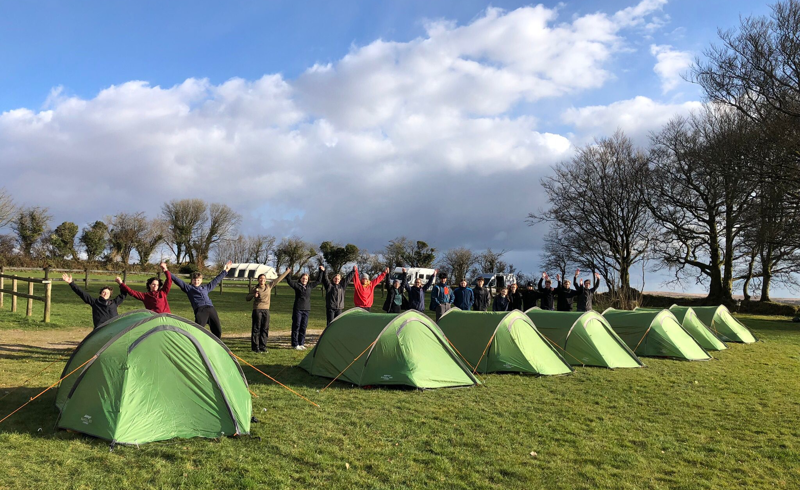 News - 6th Apr 2022
St Peter's Ten Tors team have been out again making the most of a full weekend's worth of training. We started the weekend by putting up our brand new tents which has been made entirely possible by the very kind and generous donations of The Exeter Episcopal Schools Trust and St Peter's PTA. We are very grateful for their kind donations that have enabled us to provide better tents for our members. The new tents are both stronger whilst being lighter than our old tents and are of a more practical design for our specific needs. No excuses then for not getting enough sleep in the new tents? Okay, it was really very cold and we were up and cooking breakfast at 6am getting ready for a 26km trek on the north moor. On our walk we gained some 780m of height throughout the day going as far south as Great Kneeset on a circular route.
Teams returned back to camp to have the typical Dartmoor luck and pleasure of cooking in the light rain after what had been a very dry and overcast day.
We woke up early on Sunday to thick frost covering the tents but we were treated to what turned out to be a glorious blue sky day. Who knew that year 10's know the lyrics to ELO's Mr Blue Sky?! Sunday's 16.5km 560m height route was more scenic taking in Meldon Reservoir and High Willhays (621m) the highest point in Devon and most of the Counties in England.
There's a lot more to be said about our amazing walks; even watching the parasailing up on Sourton Tor. However, what is even more impressive than that spectacle was the hard work of each and every member of the group. The navigational, teamwork, fitness, self-reliance and resilience of the pupils is what is most impressive. Everyone has put in the hard work asked of them and has each achieved something in their own right and also as a collective for their peers. Regardless of Ten Tors team selection they all have something already to be very proud of.
As the weather gets brighter and warmer we look forward to just one weekend's training to go before the event in early May.
A special thanks once again from all pupils and Ten Tors staff for the support from Exeter Episcopal Schools Trust and St Peter's PTA.
Mr Goldsmith Ten Tors Manager