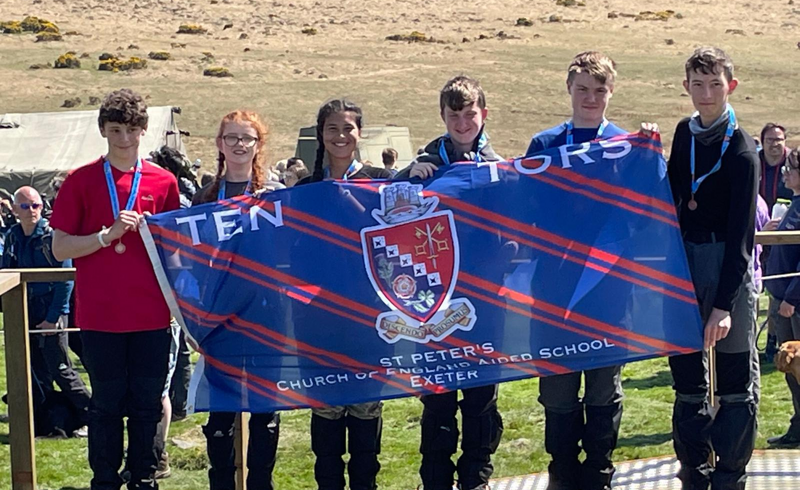 News - 11th May 2022
This year's 60th event started with teams forming a large "60" comprising 2800 people (including 400 staff) to mark the occasion. After the Army artillery gun fired at 7am on Saturday the teams headed off on their challenge. Keen observers will have noticed that our teams IN & JN were following mirror routes of each other with IN walking clockwise and team JN walking anti-clockwise. You will soon be able to download and follow the exact path taken of the team's routes from their trackers as a Google Earth overlay from the results page on the Ten Tors website.
Team IN (Flora TC, Tilly, Darcy, Jody, Jack & Josh) finished at 13:32 & Team JN (Kieran TC, Filip, Will, Ben, Andrea & Jess) finished at 14:17. Both amazing times and within a fraction of each other given the distances covered. Speaking of distances our challengers calculated their routes to be over 41 miles as true distances walked are very much determined by the wild moorland as opposed to a crow fly measurement of 35 miles as per the event name.
Magnetic bearings and routes aside, students will have found attributes from the St Peter's Character Compass in abundance this weekend (and all participants during the training). Wisdom; to utilise their new skills to plan, observe and execute the best route or course of action required. Methodical in their route planning, packing, organisational skills, problem solving and being entirely self sufficient over the course of the event.
Community; understanding that each member of the team had their unique roles and individual qualities to assist and benefit the team as a whole. Forgiveness, moving on positively when the team suffered a setback. Undoubtedly there were one or two moments of strife that affected the team on their challenge.
Courage; perseverance to keep going despite the huge task and distance ahead, armed with only their own skills, that of their team mates and with no external help.
Considered risk, not only of the environmental nature of wild Dartmoor but knowing a significant challenge lay ahead of them and taking the opportunity to step forward even though they didn't know the outcome, but did know how tough it would be.
Compassion; each team member recognising the responsibility they shared with their team mates, knowing their actions, self control and discipline affected others and ultimately the success of the team.
We know our St Peter's challengers will remember this weekend for the rest of their lives as they learnt what they are capable of achieving individually and also as a team. We suspect they surprised themselves, hence the beaming smiles when they crossed the finish line.
A special thanks again to the financial support of the PTA & Episcopal Trust that enables us to offer (and improve) these character building opportunities and create lifetime memories for our students.
Another special thanks to all of our dedicated Ten Tors training staff who have in their own time trained, mentored the students and also facilitated the opportunity for pupils to participate in this amazingly rewarding event.
Mr Goldsmith
Ten Tors Manager