2022 Celebration and Tips for the Fine Art Exam
Back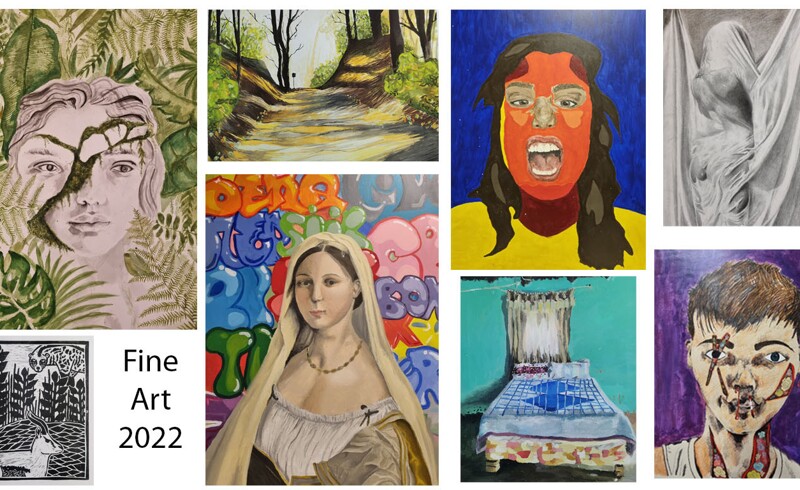 News - 4th Jan 2023
As a new year begins it is natural to look backwards as well as forwards and as our new year 11 Fine Artists are about to embark on their final project, set by the exam board any day now, we thought it would be a fitting time to look back at the artwork of our class of 2022, as well as to share some advice for the upcoming exam.
2022 was a fantastic year results wise with some superb originality and creativity of thought from all of our students. As we were unable to put on a celebratory exhibition here is a digital show, featuring work from all our 2022 Fine Art students. Work will also be displayed on the rolling screens around the school to inspire future generations. Many of our students will have seen some of the ambitious artwork on display in the corridors before the work was collected.
Of course these final outcomes only reflect a tiny aspect of the journey our students take in order to create these unique images, and in deed their final mark is a reflection of not just their finished pieces but the many experimentations, adaptations and investigations along the way. It truly does take dedication and practice to achieve your best standard.
So what goes into a Fine Art project? Having chosen their theme, many students begin by looking at artists linked to their chosen theme, but sources of inspiration can also include music, film, literature or even current affairs. The next step for many is to begin making drawings and images related to their themes, exploring ways to combine these, thinking about the message they wish to convey. Practice with a range of media is necessary in order to demonstrate broad skills and to hone the skills in your chosen media, before settling on a final idea to take forward.
Some advice for the class of 2022.
Preparation is crucial: Use the preparation time well, that way you can get plenty of marks from your book work and if everything goes wrong on the exam day you have a safety net. You will have around 10 weeks to plan and prepare for the final 10 hours where you will create your outcome. This will go quickly. Three quarters of your mark can come from the preparation if done well.
Be decisive: Choose a theme quickly and stick to it. Most themes are really broad, and you can take them in a direction that interests you even if the road there isn't a straight one.
Value mistakes: do not discard experiments or rough ideas as these help tell the story of how you got there.
Play to your strengths: Your exam is worth 40% and is marks separately from your coursework. If you know you are most skilled with portraits or acrylic painting or dry materials make sure you show this in your exam project. It may not be the best time to try something you have never done before. On the flip side, a bit of creative risk taking can be great to help you feel excited and motivated by your work if you feeling are stuck in a rut.
Don't think too much: Get drawing and creating as quickly as possible. Making Pinterest boards, mind-mapping, or making nice titles may feel like you are being busy but none of these things are going to get you the marks. Rather than trying to think of a good idea, make a drawing, copy an image, mix it up with media. Go for the things that get you the marks. Once you have created some images your teacher can guide you and help you find your own way if needed.
We can't wait to see what our current year 11 students come up with and wish them the very best of luck in their final GCSE Art projects.