News - 3rd Mar 2022
Non-uniform day – Tomorrow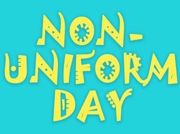 A quick reminder that we're holding a special non-uniform day tomorrow - Friday 4th March.
In exchange for a suggested minimum donation of £1, students may wear their own clothes. We are inviting students to wear blue and/or yellow if they would like to as all money raised will go to the World Vision Ukraine Appeal.
Many of us will have been upset as we watch with horror the attack by Russia on Ukraine. During Collective Worship this week we have been pausing to think and reflect on the tragic events unfolding in Ukraine. We have used this prayer written by Archbishop Justin Welby and Archbishop Stephen Cotterell.